One of the first things to come up in conversations with clients about a new store or migrating to Shopify is themes.
Having pre-built themes is great in that it goes a long way to removing a significant barrier to entry when setting up a new store, particularly for smaller start-ups whose chief concerns tend to be around time and budget. Themes available from the Shopify theme store, of which there are over 70 ranging from free up to around $180 (for the more premium ones), make getting a store up and running quicker and more cost effective.
However, there are a few things worth considering when approaching a new Shopify store that will affect whether you are best going with a theme or opting for a bespoke solution. Below are a few observations from our experience working with Shopify over the last 8 years.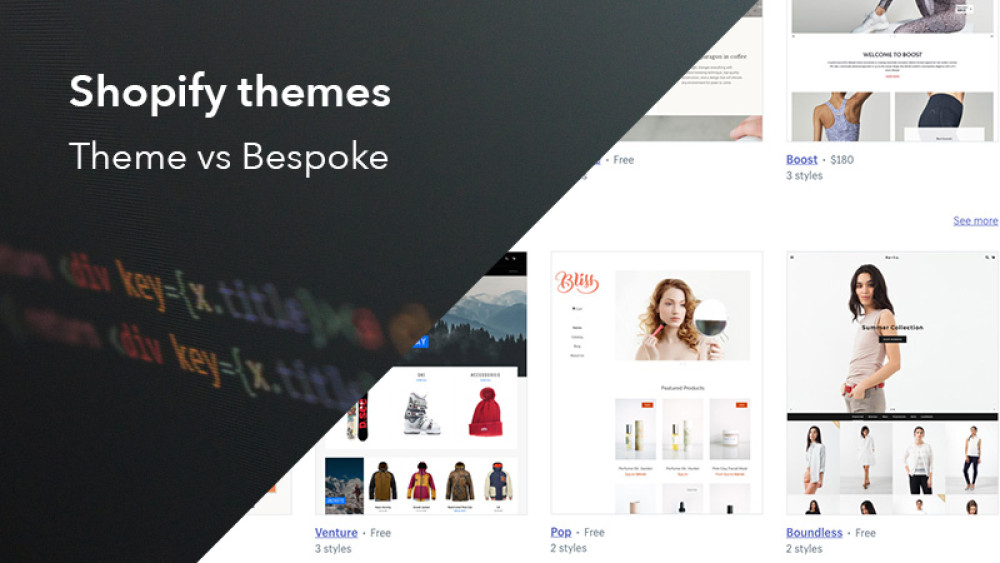 Design and functionality
The amount of design and functional control you want will have a bearing on whether choosing a theme or going bespoke is best for you.
Buying a theme from the Shopify theme store gives you a framework and templates around which you can apply your brand. Given the prefabricated nature of a theme there will always be restrictions to how individual your store feels, but having a solid design to build upon can greatly reduce project time, if time is a priority.
If you're looking for complete control over the user experience, design and functionality of your store then building a store from the ground up is the way to go.
Short-term vs. Long-term
We often see stores created using a theme as this is seen as the best way forward at the time (which is completely understandable). However, as time goes by the desire to continue to develop the store makes this more and more difficult (versus a bespoke theme) as you'll often end up fighting against the theme code in order to make changes that stretch things beyond the level of customisation a theme offers 'out of the box'. There's definitely a point at which developing a theme in this way starts to become less cost effective as implementing changes tend to take longer.
Weighing up your short term and long term goals at the outset will help to inform the best way forward as a short-term saving could be far outweighed further down the line.
Performance
Themes are built to appeal to and cater for a wide range of potential uses and business types. This means that it can often be the case that you end up with a good deal of code that is superfluous, which makes things less efficient and more complex to manage going forward, from a development point of view. A bespoke theme would, as the name suggests, be built with a specific business/brand in mind, so would be made using only those elements and functionality relevant to that store. This factor becomes ever more important with more search engines taking into account page speed when ranking sites. Also with the huge shift towards users consuming content on mobile devices, the need for efficient and fast sites is becoming critical for businesses when considering their Search Engine Optimisation strategy.
Maintenance and upgrades
As with any software development there are occasionally bugs that come to light after release. In the case of themes there would be a reliance on 3rd-parties to resolve these, so more of an unknown in terms of timescales for when these might be fixed. Having said this, Shopify does do a good job of managing the theme store to ensure that things are of a high standard and the theme providers are able to respond quickly to issues as and when they arise.
Along with maintenance of themes, theme developers will also offer upgrades to add new functionality to themes. This is great news for the store owner as you have the potential to gain additional functionality for your store.
It should be noted, there is a bit of a misconception about how upgrades are applied. It is often talked about in a way that suggests installing an updated theme is as simple and straightforward as clicking a few buttons and uploading a few new files. The term 'upgrade' implies that this will replace the existing theme and all of the current setup, apps and any bespoke development will work as it did before; it won't. The reality is that a 'new' theme is installed and it is then a case of migrating everything (setup, config, apps etc) over from the old to the new theme.
Obviously the effort to do this with a theme will vary depending on the amount of customisations that have been carried out. This is something that clients often ask about and in most cases are surprised to hear that it is not as simple and straightforward as they had been led to believe.
Summary
Theme
Fast and cost effective to get a store up and running if time and budget are key considerations

Good framework around which to setup a store

The quality of the themes are of a good standard. Shopify carries out checks to ensure themes are fit for purpose and supported going forward.
Bespoke
Greater freedom when it comes to UX, design and development

Better long-term solution in terms of development and maintenance

A more efficient solution in terms of coding and performance
To finish
There are cases for both approaches and it really does depend upon your business and the type of store you are looking to build and how you foresee it growing into the future.
Having a complete understanding of your required functionality and having a realistic budget in mind is essential and will go a long way in answering which choice is right for you.
If you would like to know more or discuss further don't hesitate to contact us.