November and December is, without doubt, the highest-volume sales period per annum: with Black Friday and the Christmas holidays around the corner, online businesses prepare for the busiest two months of the year. In this article, we look at how your page speed could be affecting your conversion rates, and what you can do about it in the lead up to the most wonderful (lucrative) time of the year.
The Power of Page Speed
In a world of constant scrolling for instant, or seemingly instant, gratification, speed is the key to conversion. The average site speed across all industries and countries is 8.66 seconds1. However, when you consider that 47% of consumers expect a page to load in no more than 2 seconds2, there are a lot of unhappy customers out there who are likely to leave your website due to slow page speed.
For most sites, mobile users are dominant and growing year-on-year. Therefore, slow mobile load times have a massive impact on conversion rates: 3, 4
Conversions can fall by up to 20% for every second delay in mobile page load

More than ½ of mobile users abandon a page if it takes more than 3 seconds to load

Website conversion rates drop by an average of 2.11% with each additional second of load time (between seconds 0-9)
Page speed can make-or-break your conversion rates. Put simply:
Faster page speed = better user experience = increased conversion + reduced bounce rates
Analysing where and why users are leaving your site is incredibly important when addressing your online conversion rates. If they are leaving due to poor page speed, this should definitely be considered for high-volume sales periods, such as November and December.
Page Speed x Conversion Rate: Usisi Sister Case Study
Visit usisi-sister.com
The Usisi Sister site wasn't performing: slow, lacking flexibility, and a poor experience on mobile.
It was essential that the new site didn't just look the part by bringing to life the brand's stylish look-and-feel, but also worked hard behind the scenes with high-performing functionality.
The result: a 142% increase in total orders.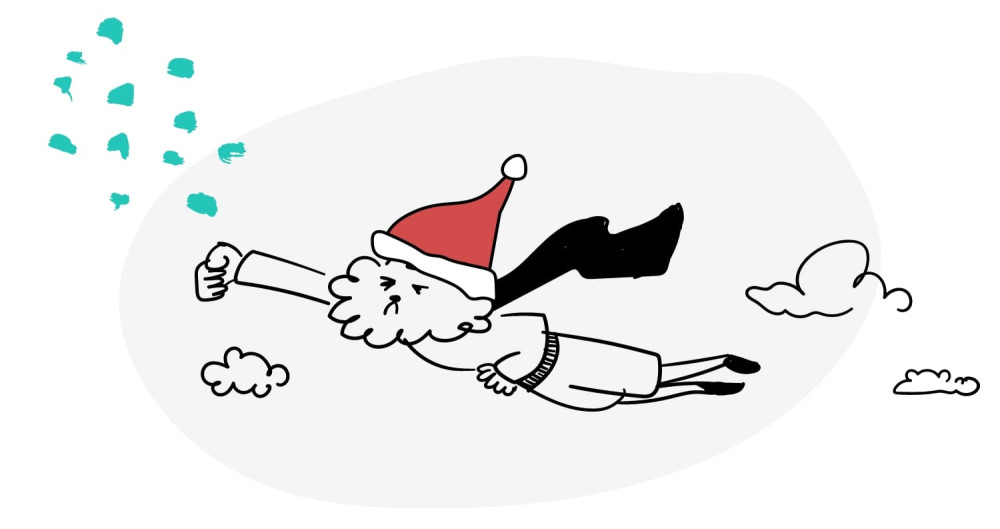 Quick Wins in Time for Christmas
You don't necessarily need a brand-spanking-new website in time for Christmas. Where time is of the essence, we've gathered some of our slow page speed culprits and offer some quick wins for faster page speed in time for the ecommerce Christmas rush…
Images
Optimise them.
Your Shopify store is likely to have numerous images. Large image sizes or having a lot of images can have a huge effect on performance. Optimising these images is a sure-fire way to increase page speed, here's how:
Reduce image size
Reducing large image sizes is one of the most effective ways to increase the speed of your Shopify store.
Shopify natively serves WebP and takes care of your thumbnails for you. However, you should be compressing your images further to improve your page speed. Aiming for a file size of 70KB or lower is a good target, though this may depend on the quality of the image you need.5
Although you can do this manually, using a Shopify-specific image compression app, such as Crush.pics, is how we recommend approaching reducing your image sizes.
Lazy-load
The supply-and-demand improvement for ecommerce content: lazy-loading.
When a consumer clicks through to your Shopify site, the browser downloads all of the available content on the pages of your site for the user to browse. When you have a lot of images, as most ecommerce sites do, this can result in the content taking an irritatingly long time to load - definitely longer than those people who are expecting a 2 second wait time are willing to stay on your page.
With lazy loading, the browser only loads the above-the-fold content. This is the content that visitors first see. The content below the fold will not be shown unless the customer scrolls down. In loading your content through this supply-and-demand method, the browser doesn't need to load all of your page content at once, hence improving your page speed.
Unnecessary Apps
If you don't need it, get rid of it.
Although this may seem like an obvious one, it's often overlooked. Any app that is installed on your store is likely to have an impact on page speed. It's worth having an app audit: if there are apps that you no longer require, it's time to uninstall them.
However, there are some apps that run in the admin only. For example, the Shopify Local Delivery app. These types of apps don't affect your speed store, so don't need to be addressed urgently.6
JavaScript
Reduce or remove the unnecessary.
If your site is loading a big ol' JavaScript script that isn't being used, the page load speed will be longer because the browser will still need to read it (and execute it where applicable).
By reducing the amount of unnecessary JavaScript, page speed will improve (and those conversion rates, too!). Whilst you may not feel comfortable doing this, our team of Web Developers are well-versed in removing that pesky, unused JavaScript.
Conversion Rate Optimisation (CRO) is about removing as many barriers between your customers and them purchasing your product(s) as possible. Page speed is unquestionably a huge barrier.
Want to chat to us about improving your page speed?
Get in touch