We have just hosted our first Bristol Shopify Meetup event in our office, on Park Street. About a month ago, Simon and I had the sudden inspiration to become a part of a local Meetup group that covered the theme of Shopify. To our surprise we could not find one. So we decided to start our own.As it turns out there is a real desire for such a group in Bristol. Within 24 hours we had over 20 members signup to our Meetup group, [Bristol Shopify](https://www.meetup.com/Bristol-Shopify/), and that number has steadily increased over the past couple of weeks to nearly fifty — and that's with no promotion as of yet.
Our first Meetup
Our first event was somewhat of an experiment in regards to seeing how people would respond to the type of talks that we originally wanted to hear; Shopify and E-Commerce with a focus on User Experience. The idea behind the group is that we build a community for people who have an interest in Shopify, both merchants and developers alike, so topics would have to be relevant to people with little technical knowledge, and those with plenty of technical knowhow but perhaps less experience with actually running an online store. We want to hear from both sides (and everyone in between).
On the night, we had two talks, the first was from Ollie Francis, from Deckchair. His topic was 'User centred research for E-Commerce'. The second was by myself, and was titled 'Shopify Slate – Building a theme'.
User centred research for E-Commerce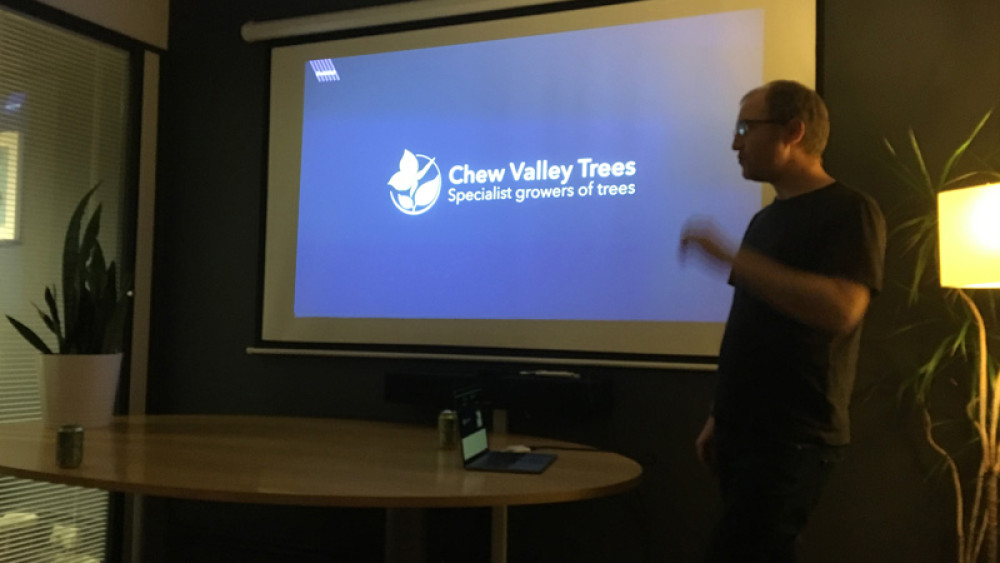 Ollie Francis - Deckchair
Ollie talked about a client they have worked with for the past decade, Chew Valley Trees. His talk was honest in the fact that they, as two companies, have experienced success and failure, together. The website has been redesigned by Deckchair over the past year. It looks great, but more importantly, by listening to feedback from 'real' users the site has surpassed the expectations of the client in terms of conversion – the amount of users has stayed fairly consistent with years gone by, but people are now finding the experience of purchasing a product far easier.
He presented some really impressive insights and statistics. Thank you Deckchair for your input tonight!
Shopify Slate – Building a theme
Ben Wellby - Thought and Mortar
In my talk I shared our experiences from a recent project we developed using the Shopify theme scaffold, Slate. This was our first time developing a store with this codebase. I covered 'what Slate is', and shared some of our thoughts from along the way, both positive and some… well, a 'work in progress'.
For theme development, Slate is the best tool that we have encountered, so far, and makes the process much more straightforward.
Until next time
After both talks, the group naturally started to discuss their own personal experiences with Shopify. It was eye-opening to listen to, not only what people want from the group, but the plethora of experience they bring to it.
Thanks to everyone who made it to our first Bristol Shopify event. We will hopefully get another arranged before Christmas, and if anyone has a topic they would like to share then please let us know via:
Looking forward to seeing you all next time.