This article is the fourth in a series of articles that will explore the features of Shopify Plus.
In part 4, we'll be exploring Shopify's internationalisation tools.
Part 4 - Internationalisation
Prior to this year, Shopify Plus merchants were able to create clones of their Shopify stores. The function served two primary purposes – first, to enable the creation of separate international stores and second, to enable the creation of B2B wholesale stores. Each of these cloned stores could be individually customised, allowing for custom products and prices, storefront designs and the accepting of various currencies.
However, earlier this year, Shopify phased out the clone store functionality in favour of new, significant internationalisation updates – Multi-currency Shopify Payments and the Plus-exclusive Wholesale Channel.
Multi-Currency Shopify Payments
Whilst clone stores were a Plus-only feature, Shopify's new multi-currency system is available to all Shopify merchants, given that they use Shopify's native payment gateway – Shopify Payments.
See an in-depth analysis of Shopify Payments here.
Taking advantage of geolocation functionality, the multi-currency feature is able to detect a customer's location, subsequently displaying prices in their local currency and rounding the converted rates to familiar rates, such as 95p and 99p. Merchants can also provide customers with the ability to manually choose their desired currency; however, unfortunately, many themes aren't yet compatible with this feature.
Multi-currency works straight out of the box and can be easily set up within the Shopify Payment settings. Before going live, however, Shopify recommend thorough testing to ensure all of your site's functions work as intended. Apps or third-party systems that interact with monetary data could be impacted by multi-currency, as well as gift cards and custom discounts. Better to be safe than sorry.
Shopify offer support excellent support to those looking to launch multi-currency on their stores.
Shopify Plus' Wholesale Channel
Shopify's Wholesale Channel was also released in 2019, giving merchants a new way of creating a clone store for the purpose of B2B wholesale.
Similar to the clone stores of the past, Shopify's wholesale channel enables merchants to create a password-protected copy of their store, only accessible by customers specified in the store settings. A wholesale store acts as an extension of your primary store, but with extra functionality.
Key features:
All orders are managed through the same admin area of your store

Wholesale stores are not indexed by search engines

Merchants can sell 'wholesale-only' products

Wholesale prices can be adjusted to offer percentage discounts, customer-dependent custom pricing and volume-based pricing
For merchants looking for new opportunities to expand their business, creating a wholesale channel to accompany your main Shopify store might just be the answer!
See Shopify's official documentation on implementing Wholesale options.
And for those who want to go the extra mile...
...make your store multilingual!
Shopify offers a few options for multilingual support; however, to the average store owner, these options might appear confusing.
Thankfully, there are a number of third-party apps out there that offer powerful alternatives to Shopify's native multilingual options. These apps – found easily via a quick search on the Shopify App Store – often offer extra functionality, such as access to professional human translators, translated SEO support and front-end language-selection widgets.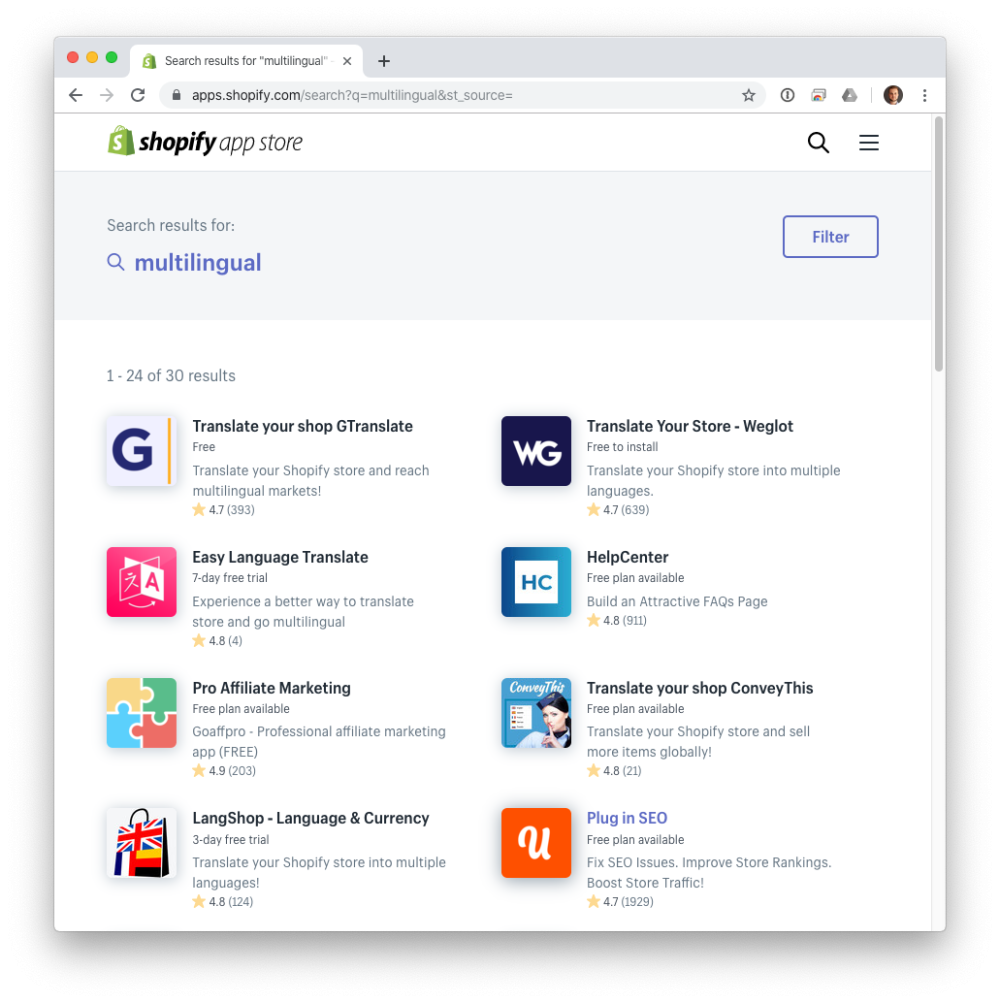 Shopify's app store
To conclude
For Shopify merchants looking to expand their customer base, internationalisation is often the obvious way to go. Accommodating multi-currency and wholesale options is a great way to start, but as a merchant seriously looking to expand to international markets, the implementation of multilingual functionality could be considered a necessity.