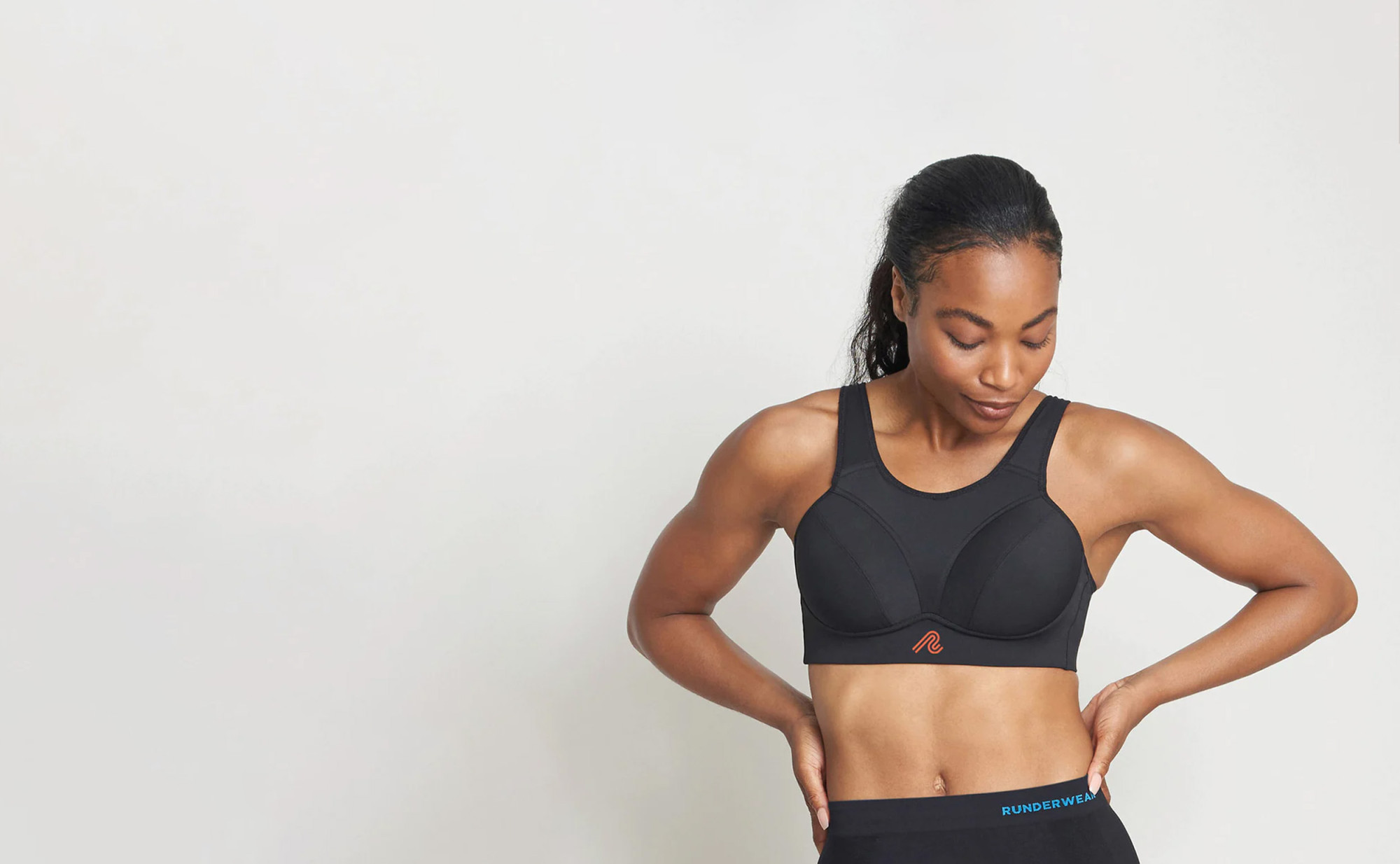 Case study
Runderwear
Runderwear have put their trust in Thought and Mortar for over 3 years, leaning on our team to keep their site running seamlessly. Their ageing codebase offered the opportunity to bring them onto Shopify 2.0 and reap the rewards of the performance, flexibility and enhanced theme architecture that comes with it.
Runderwear are one of our unwavering clients. We moved them to Shopify 2.0 to support their need for a highly performant site that runs as fast as their customers.
5%
increase in order value since new site
14%
increase in mobile sessions
Behind
The thought
Shopify has significantly matured since Thought and Mortar started working with Runderwear, and we have worked continually with Runderwear to transition them into the new era of Shopify 2.0. and it's new enhancements.
Through the implementation and development of a new theme, we were able to embrace significant opportunities for performance optimisation through the move to 2.0. This was also a great opportunity for us to audit the elements of the site that were working well for Runderwear, and those that we thought could be vastly improved.
We also provided strategic consultancy on Conversion Rate Optimisation across the site, including dynamic solutions for cross-sells, upsells and multi-buy bundling functionality.
We adopted a versioned approach to the project, which was both cost-effective for the client and provided them with a strong foundation upon which they can build and iterate on as their business continues to grow.
Visit Runderwear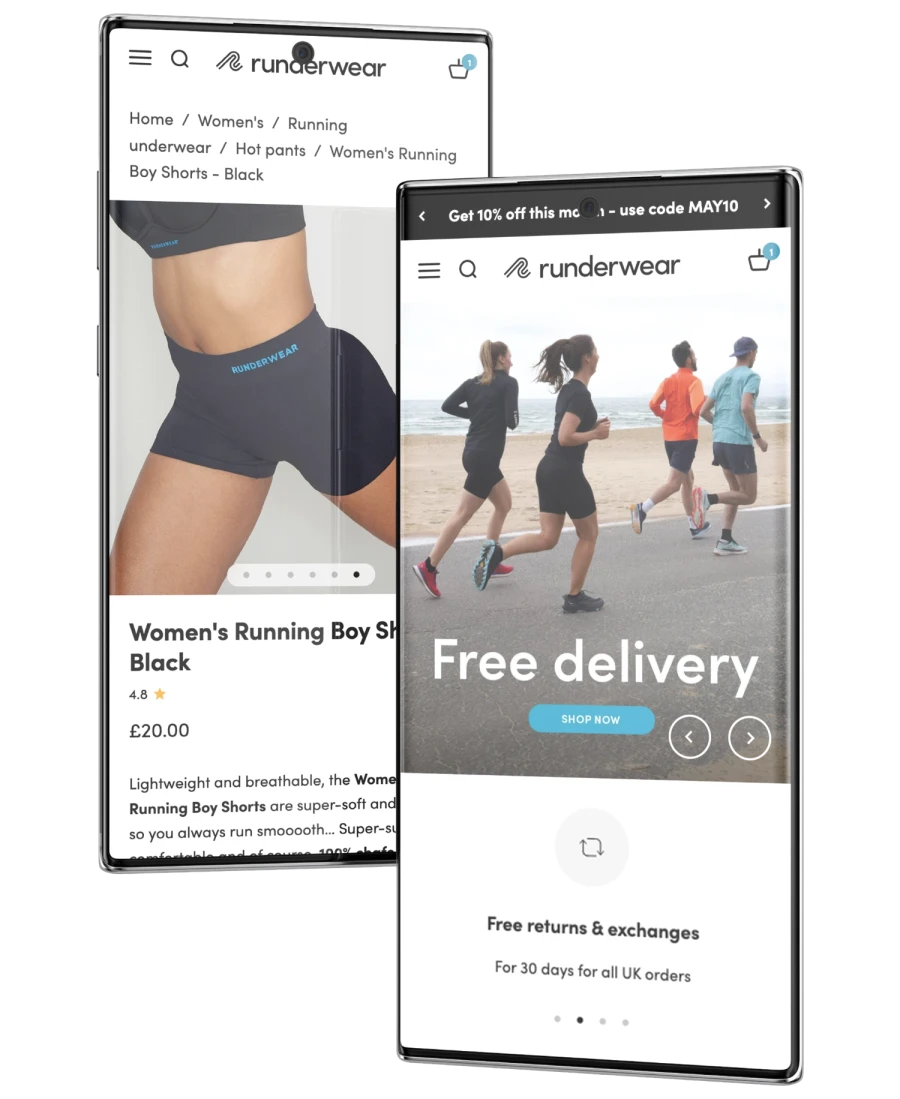 Behind
The mortar
After an extensive requirements-gathering phase, we had a great understanding of what we needed to implement to develop a fast and functional new runderwear site.
Performance
Runderwear's previous site was slow so performance was key to making this a successful project.
Implemented a carefully selected theme that delivered the necessary page speed enhancements and features

Said goodbye to some of the deprecated and unnecessary apps that were slowing down their store
Bespoke upsell functionality and discount logic
On the new runderwear site, we developed Smart upsells and Multi-buy upsells. These are two ways of upselling and promoting products via the cart drawer, with the aim to increase average order value.
Smart upsells: a more generic way of attempting to upsell users. When a user adds a product to their cart, if the product is not found within a Multi-buy collection, we instead promote products relevant to the item that the user has just added to their cart.

Multibuy upsells: offering discounts when a user buys a specific number of products from a specific discounted collection, powered via native Shopify automatic discounts.

Bespoke 'Mix and Match' product template
Implementation of an additional product page template to allow for multiple products to be added to the cart from a single page.
"Thought & Mortar have been a pleasure to work with since we started working with them over 2 years ago. Excellent and prompt communication, fantastic quality of work completed and always go above and beyond to meet and achieve our expectations. Ben and Simon have assembled a brilliant team and any business with a Shopify store could benefit from their knowledge, logic and practical input."

Runderwear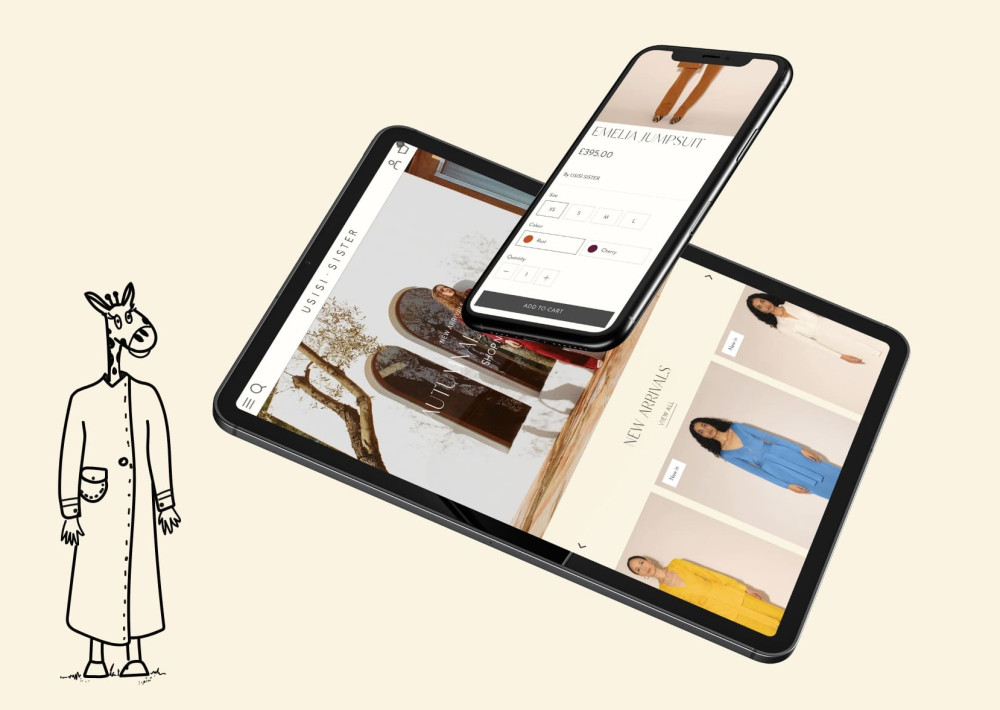 The premium womenswear brand – and proud pioneers of the slow fashion movement – was growing fast. But its site wasn't up to scratch. With a bespoke theme and smarter functionality, the brand's sales went up by 127%.
All stemming from a conversation with a friend about Antler Dog Chews, Green and Wilds are all about natural, healthy products for our four-legged friends. They have a clear and direct vision to be a major brand in environmentally sustainable, nutritious, and just-plain-good products for pets.