Every June brands come out in force to celebrate Pride Month and this year has been no exception. But how many of these brands really support the LGBTQ+ community and how many are just sticking a rainbow on their logo and doing nothing else? And how do you ensure you get the balance right with your future Pride campaigns?
Firstly, why does it even matter?
Showing your support by simply changing your logo to a rainbow version or decorating your store front or office with rainbows doesn't really support anyone if nothing else you're doing supports the LGBTQ+ community. Don't get me wrong as a member of the community the rainbows do make me feel represented. And representation matters. Representation makes people feel less alone. And if seeing the rainbows makes just one person feel less alone, if it makes one person accept who they are and if it makes one person realise that being LGBTQ+ is ok, then the rainbows are a positive.
However, if companies don't back their rainbows up with meaningful action, they're not caring about their customers or their employees. They're rainbow washing for profit and that's why it matters.
Customers and employees are holding companies to much higher standards now than they ever have before. So if your company policies aren't inclusive, if you're not supporting LGBTQ+ creators, users or partners, if you're not contributing or partnering with LGBTQ+ communities and causes, you're not supporting Pride. You need to care about Pride and the LGBTQ+ community for the whole year, not just for the month of June. And, if your policies, donations and actions actually cause harm to the LGBTQ+ community then don't even think about touching the rainbow.
So, what should your brand do?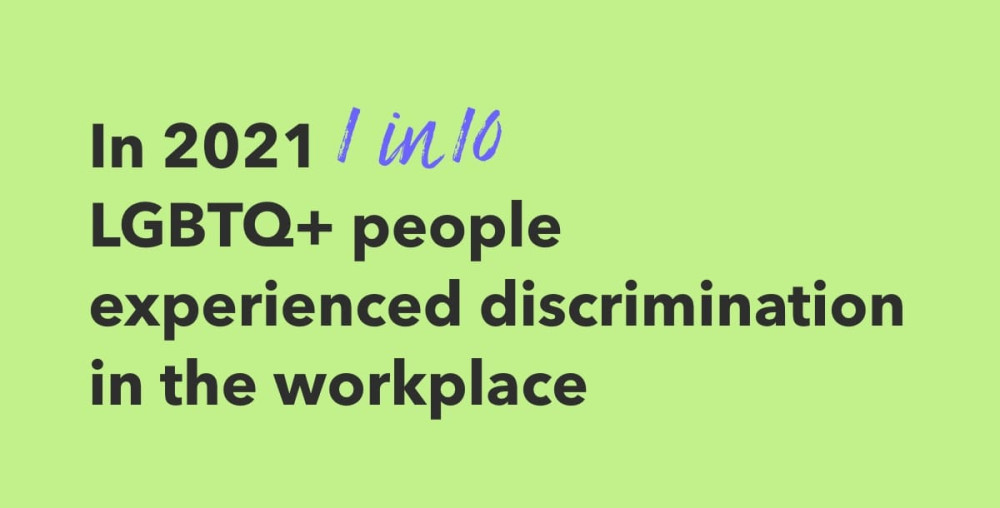 Make sure your internal policies are inclusive and support your LGBTQ+ employees
Before you focus on your customers, you need to look internally and focus on your employees. The Equality Act 2010 gave LGBTQ+ employees protection from discrimination, harassment and victimisation at work. However, last year 1 in 10 LGBTQ+ people experienced discrimination in the workplace and a 2018 report by Stonewall revealed that only 3 in 5 LGBTQ+ staff think that their workplace has policies in place to protect them and 1 in 8 would not feel comfortable reporting homophobic bullying.
Those figures are shocking. Every single employee should be able to bring their whole self to work and below are 7 ways in which you can help create an environment where your LGBTQ+ employees feel confident to do that:
Have a zero tolerance policy on bullying, discrimination and harrassment. Ensure that this policy includes sexual orientation, gender identity and gender expression

Put together a transitioning policy with guidance for management and HR staff on how to support individuals who are transitioning

Put together a values statement that includes LGBTQ+ people so that current employees and prospective employees know that they are/will be accepted at work

Include diversity training when you enroll new staff members and make sure to provide training frequently for all staff members on what your companies policies are and how they can help create an inclusive working environment

Ensure that any partner benefits that your employees recieve include same sex partners

Review all your internal communications and make sure the language used throughout is inclusive

If you're a large organisation consider setting up LGBTQ+ groups and events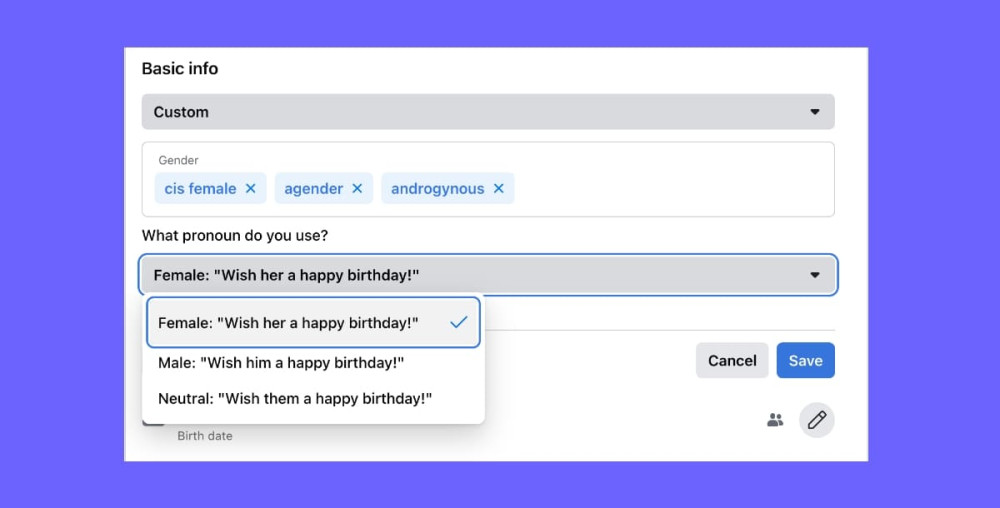 Ensure a discrimination free experience for your customers
There's no point celebrating Pride if customers have a bad experience whilst using your products. For example last year when Paypal changed their logo to support Pride they were criticised by shoppers and the LGBTQ+ charity, Stonewall, for making it incredibly difficult for trans people to change their name. Making it easy for your users to change their names or pronouns on your website is just one way you can create a discrimination free experience.
Additional ways you can make sure your company is inclusive for your LGBTQ+ customers are:
Hire LGBTQ+ staff and make them visible to you customers

Allow your users to identify as they wish and allow them to easily change it as their identity evolves. The Facebook example above allows users to input multiple custom genders and choose male, female or neutral pronouns which you can update at any point

Use gender neutral language throughout your marketing, store and website

Make sure your protect your customers from harassment and bullying. If you have a comments/ blog section on your website, make sure you monitor it and make sure that your LGBTQ+ customers are safe in your physical store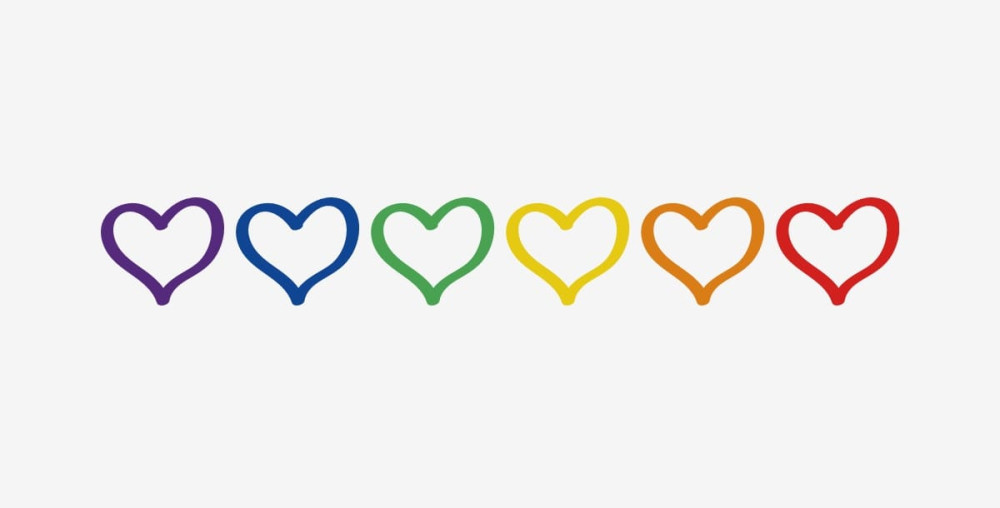 Consider how inclusive your Pride Collection is
Releasing a Pride collection is a great way to show your support for the LGBTQ+ community if you're already supporting your employees and customers in other ways. It allows LGBTQ+ people to express themselves and allies can show their support for the LGBTQ+ community. However, you can go beyond just putting rainbows on your current product range by considering the below:
Use LGBTQ+ designers and creators
Why not celebrate LGBTQ+ designers and creators by commissioning them to design your Pride collection? This year Hollister have teamed up with student activists at GLSEN, who rally for LGBTQ+ inclusion in schools, Pride month, & every month, to co-create their Pride collection.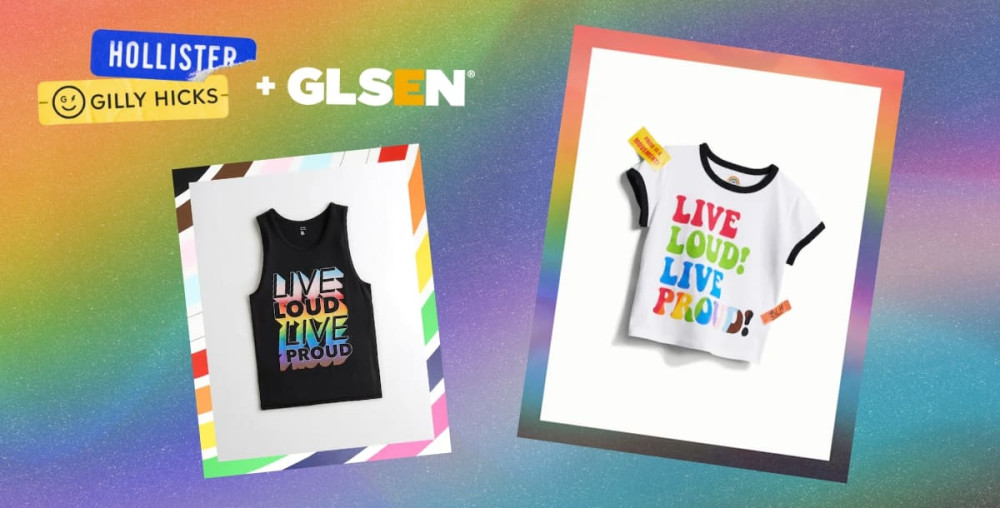 Make your Pride collection gender inclusive
Show your support for LGBTQ+ people by creating a gender inclusive range. Supporting Pride seems a bit redundant if you then split your collection into male and female when the very people you're targeting may not fit into those boxes. So why not make a range in a variety of sizes and styles that allows everyone to express themselves? This year brands such as Hollister, Levi's, Abercrombie and Fitch, Vans and Converse have all launched gender inclusive Pride Collections.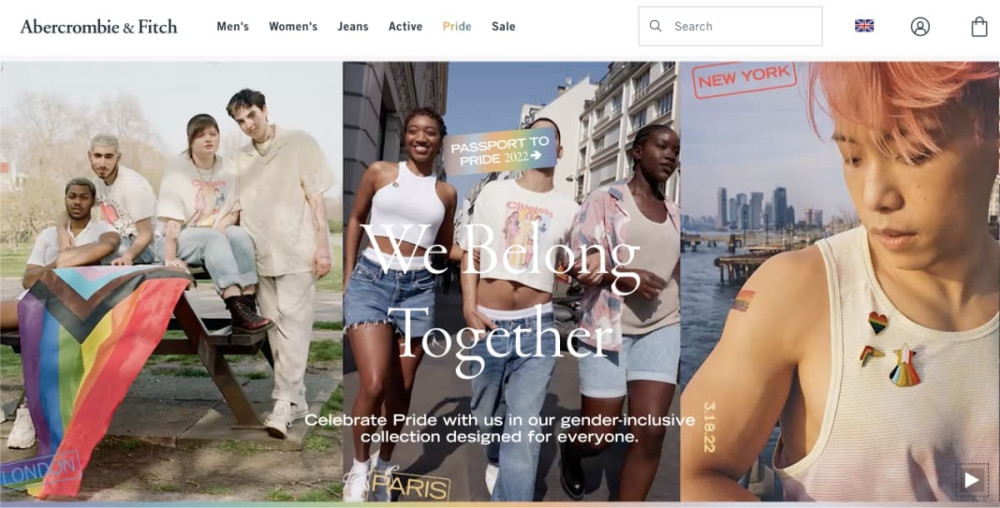 Another key consideration when you launch a Pride collection is profit. Brands that release a collection and then don't donate any of the profit to LGBTQ+ organisations aren't supporting Pride, they're rainbow washing and profiting from LGBTQ+ people whilst giving nothing back. And don't just give a token amount. Brands such as New Look and Skagen are donating 100% of their profits to LGBTQ+ organisation. Other brands, such as, Hollister, Sweaty Betty, and Levi's are donating a set amount regardless of sales.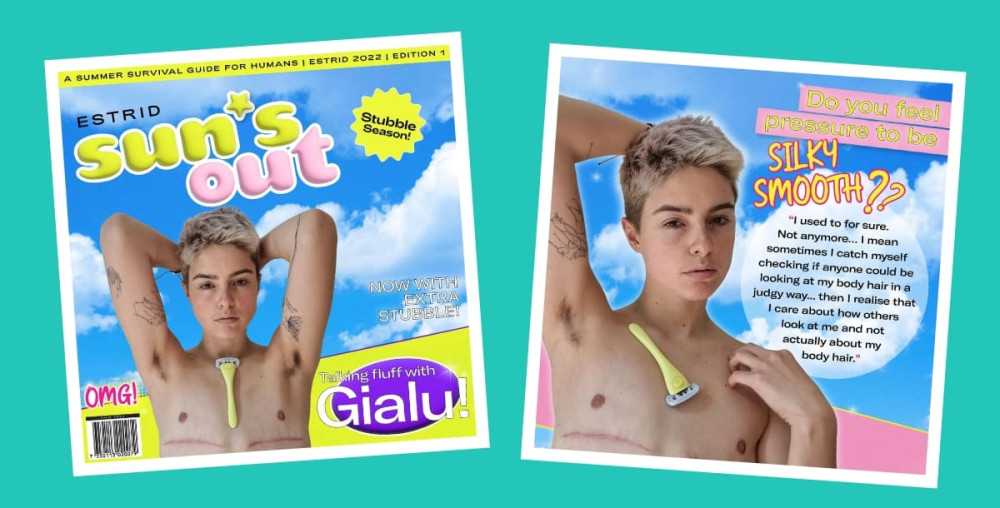 Include the LGBTQ+ community in your marketing all year round
If you do release a Pride collection it should go without saying that you'd use LGBTQ+ models to advertise it (and if you don't then you should). But what about the rest of the year? The razor brand Estrid was created to challenge gender-based discriminatory pricing. Whatever your gender identity they celebrate it and use LGBTQ+ models all year round to market their product. For example this Estrid Facebook advert above features Gialu, a non-binary activist who has had top surgery.
Use your platform to elevate and celebrate LGBTQ+ voices
If you've got a large social media following why not use it as a platform for members of the LGBTQ+ community. You could celebrate your LGBTQ+ employees (if they agree to share their stories), if you've partnered with designers/ creators for your Pride collection you could share their stories, or you could partner with LGBTQ+ activists.
This year Converse is celebrating the LGBTQ+ community by celebrating the 'Found Family'. They say it's "the people met on the journey to Pride who surround us with love, support, and acceptance that exist at the many intersections of the vibrant, dynamic, and multifaceted LGBTQ+ community". They're celebrating by sharing the stories of 50+ creatives from the brands community. You can see their video celebrating the 'Found Family' above.
Sweaty Betty launches a Pride range every year. Alongside this they celebrate LGBTQ+ sportspeople. Last year they teamed up with three trailblazers to discuss their journey as an LGBTQ+ person in their fields of sport. This year they're celebrating LGBTQ+ athletes, advocates and activists inspiring us to stand up and speak out by sharing their stories on their social media.
As Pride Month draws to a close this year it's worth remembering that lot of the above isn't just relevant to Pride. It can be applied to Black History Month, International Women's Day and many more social issues. Any social campaign your brand undertakes you should consider if your company is really helping that community. Not just for that day or month but in everything you do. Every. Single. Day.